This was an impromptu and last minute plan. Not wanting to waste the long Merdeka weekend doing nothing, I invited my parents to join me for a road trip to Thailand as we had not gone out for holiday for quite some time. After packed at bout 6pm, we quickly went to town to exchange some Thai baths. After our ferry ride to the mainland, we set our journey towards Bukit Kayu Hitam border. Along the way, we stopped by at the Gurun Caltex station to purchase Thai insurance policy, filled the White arrival card, TM2 Information of Conveyance form and TM3 Passenger list form. We reached the border at about 10pm and the queue was rather long.
We managed to get all the immigration procedures done at about 12.00pm (Malaysian time). We felt much relieved and set our way through the border town of Sadao towards Hatyai. As it was rather late, there wasn't much vehicle along the dimly lit road. I guessed many Malaysians are spending their night at the border town. Along the way, there was a roadblock by the Thai police as it was late at night. After about 1.5 hours drive from Sadao border, we finally reached Hatyai town at about 12.30am (Thailand time) and checked in at Cathay guesthouse which I have pre-booked earlier from Booking.com. As we were quite exhausted from the long drive, we were fast asleep even though the guesthouse room that we stayed in was rather old. We do not mind as we just need a short rest before a long journey the next day.
The next morning, we woke up early and got to the Kim Yong morning market nearby to have our breakfast and grabbed some snacks. After breakfast, we quickly checked out at about 9am and started our long drive to Phuket. Road towards Phuket passes through the town of Trang and Krabi. It was a smooth ride and I rather like the road in Thailand as there is no toll charges as well as it has shady trees lining up the side and middle of the road providing some shades from the bright sunshine. We stopped by at a small rest area close to Krabi for simple lunch of glutinuous rice dumplings which we bought at Hatyai before continuing on our journey. At about 4pm, a Welcome to Phuket signage welcomes us when we approached the short Saphan Sarasin bridge linking the mainland to the island.
After crosses the bridge, all vehicles have to go through a security checkpoint. Using Here Maps GPS navigation, we drove along Thanon Thep Kasattri passed the town of Thalang and cut through a hilly road at Phuket Golf and Country Club, Kathu before reaching Pathong beach. GPS led us direct to Baan Ketkeaw Guesthouse, located about 1km from Pathong beach. We took a short rest at the cozy guesthouse till late evening before headed out to Pathong beach for our dinner. We had Thai food of Khao Phad Sapharot, Som Tam, Paad Thai etc. in front of Banzaan fresh market.
As it was a Friday night, it was quite crowded with local as well as tourist. We then visited the Jungceylon shopping complex.
As the sun sets, Bangla road along Pathong beach was a hype of activities and entertainment with clubs, muay thai show, boxing show, pubs, karaoke, striptease show, pole dance show, massage parlour and roadside peddlars selling all sorts of snacks and souvenirs. It is quite seducing to see scantily clad girls dancing on pole, on tables and on window display under red neon lights following the rhythm of the music beat. At the end of the Bangla Road, we had a night stroll along the Pathong beach. It was quite windy and refreshing.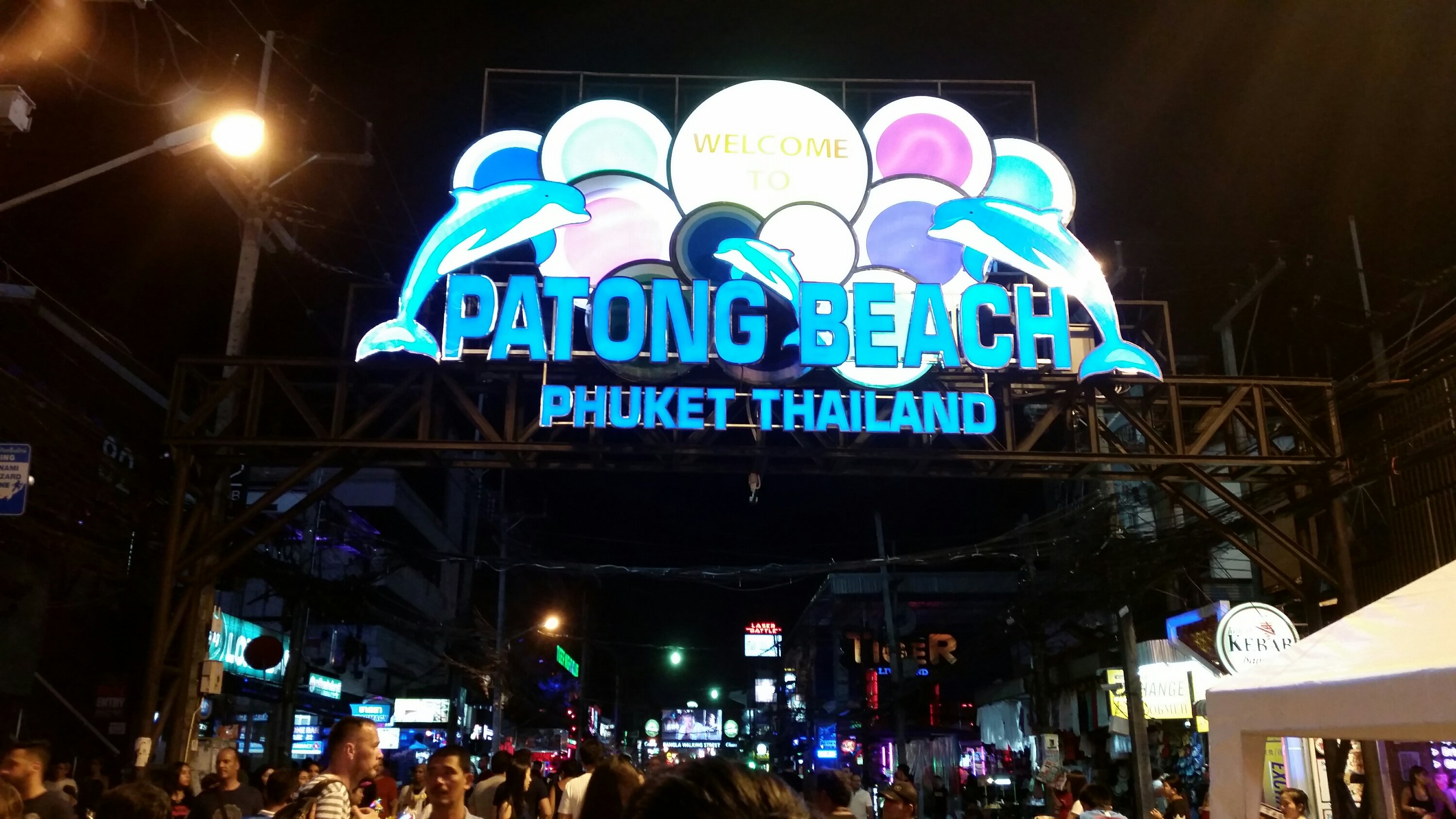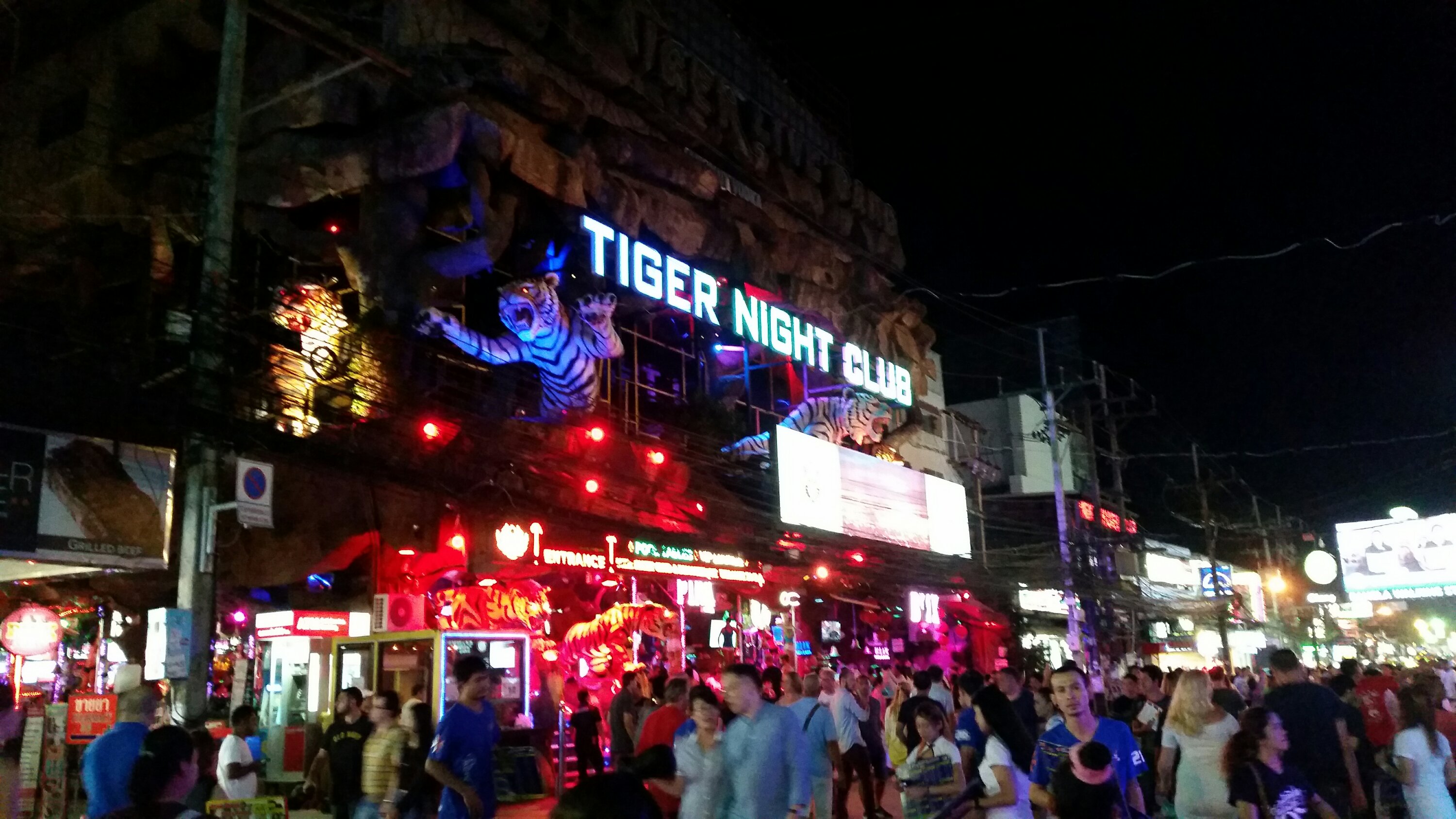 The next day, we had simple breakfast at the guesthouse and then headed out for sightseeing. Some parts of the roads around the island were quite steep. Among the places that we visited were Karon Beach, Big Buddha temple of Phuket, Phra Mahathat Chedi Phra or Wat Chalong Pagoda, Kanchanaphisek Lighthouse at Prom Thep Cape viewpoint, Karon viewpoint. From the Big Buddha temple, we can see beautiful panoramic view of Phuket from on top of the hill. At the Phrom Thep cape viewpoint, we had a relaxing afternoon enjoying the sea breeze and seeing ocean waves hitting on the rocks along the cape while eagles flying around preying on fishes.
Late evening, as we reached back to our guesthouse, my parents were too tired to go out for dinner so I take away meals from the nearby Jungceylon shopping complex.
We checked out the next day and headed to the historical and heritage town of Phuket. We had a walk around the town enjoy seeing its rich heritage architecture of colonial style houses situated along Thalang road and Yaowarat road.
We stopped by for lunch at a restaurant in town serving rice noodles or Khanom Chin or what we called as laksa. After lunch, we checked in to The Wide Suites Condotel nearby and spent our whole afternoon relaxing. They had a very nice and cozy rooftop infinity pool as well as a well equipped gym.
At night, we went to the Chaofa Sunday night market and enjoyed variety of Thai snacks and delicacies.
The next day we departed from Phuket and directly drove back home. It took us about 8 hours to reach the Thai border at Bukit Kayu Hitam.