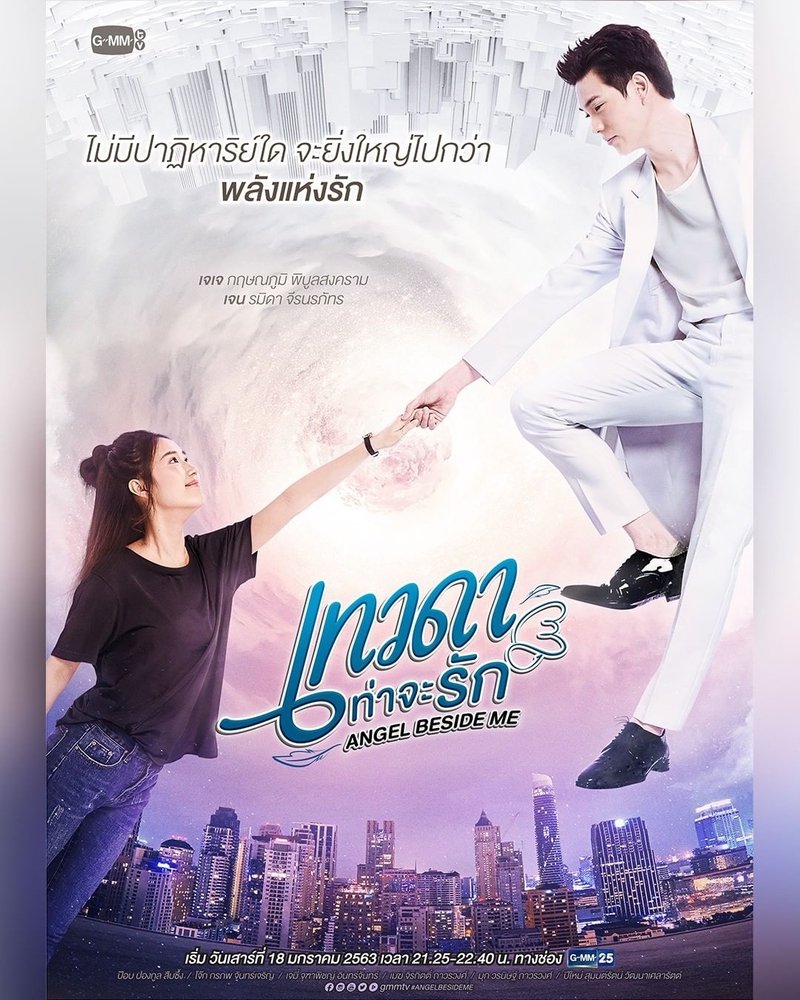 Lin is a poor girl who is on the verge of suicide when suddenly been interrupted by a loud crash through the ceiling of her room. An angel known as Michael Lansaladon fell from heaven after observing Lin's attempt suicide. As a blessed angel in heaven, he understood human's feelings. Feelings such as taste, excitement, fatigue, anger, pain, and love.
Native Title: เทวดาท่าจะรัก
Also Known As: เทวดาท่าจะรัก Angel Beside Me
Directors: Chatkaew Susiwa
Genres: Comedy, Romance, Drama, Supernatural
Tags: Attempted Suicide, Angel, Healing, First Love, Depression, Superhuman Strength, Devil, Heartbreak, Rain, Gangster (Vote or add tags)
Country: Thailand
Type: Drama
Episodes: 12
Aired: Jan 18, 2020 – Apr 4, 2020
Aired On: Saturday
Original Network: GMM 25
Duration: 1 hr. 10 min.
Chatkaew Susiwa
Main Role
JJ Kritsanapoom Pibunsonggram
Mikael Alansaladon Aekisna-ares / Somchai
Main Role
Jane Ramida Jiranorraphat
Lin
Main Role
Mook Worranit Thawornwong
Serena
Support Role
Mek Jirakit Thawornwong
Luke
Support Role
Jamie Juthapich Indrajundra
Punpun
Support Role
Plustor Pronpiphat Pattanasettanon
[Guardian Angel]
Support Role
Pompam Niti Chaichitatorn
[Lord of Angels}
Support Role
Joke Gornpop Janjaroen
[Police angel]
Support Role
Sumonrat Wattanaselarat
Support Role
Guest Role
Puimek Napasorn Weerayuttvilai
[Angel of love]
Guest Role
Pluem Purim Rattanaruangwattana
[Angel]
Guest Role
Fiat Pattadon Janngeon
[Angel]
Guest Role
Sing Harit Cheewagaroon
Guest Role
Gun Chanagun Arpornsutinan
Munggorn
Guest Role